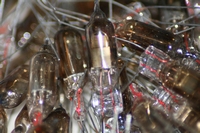 Neon bulb IN-3
Neon bulb IN - 3.
Size of bulb (without metal legs) is approximately 22 mm long and 6mm wide.
It can be used, for example, as a nixie clock colon separator.
Firing voltage is 65V. Operating current 0.5mA.
They have a nice orange glow.
The color of the glass is brownish.